Toddler & Preschool Scooters
New Zealand's Favourite Toddler Scooters
Is your toddler ready for their first set of wheels and taste of independence? Are you looking for the perfect toy to develop your preschoolers skills and confidence? Our toddler scooter range has the best scooters and ride on toys for toddlers aged 1-4 years. They've been designed with safety, durability and fun in mind, and that's why they've been recommended by parents to parents over and over again.

These quality kick scooters will last the distance thanks to impeccable engineering and high quality materials backed up with a 2 year manufactures warranty. And when they've reached school age, pass it down the family and give it a brand new look with all replacement parts available.

The award winning Mini2go and Mini Micro are perfect for preschoolers to gain confidence, learn to scoot and have a blast. The 3 wheel scooter design gives them the stability they need to develop essential early motor skills. The intuitive 'lean to steer' scooting style makes it quick to learn and has been designed to develop coordination as your toddler rides. Explore our 2 or 3 wheel scooter buying guide if you're unsure what's the best fit for your toddlers confidence and experience.
Micro balance bikes teach toddlers to ride a bike the easy way. Most children who ride a balance bike graduate to a bicycle with no training wheels needed. Check out our balance bike or scooter buying guide to ensure your child has the right equipment for them!
Our toddlers scooter accessories are great for adding to their safety and fun. They'll look cool and scoot safe with fun helmets, bells, honkers, and elbow and knee pads. Browse below our great range of toddler scooters, balance bikes and awesome colour choices - perfect for kids aged 1 to 5. Remember our preschool scooter experts are always here to help and there is free delivery on all scooters!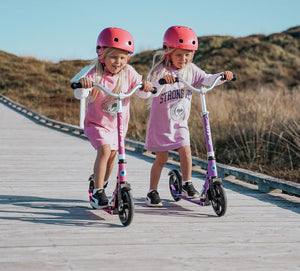 Got a tall and/or super-confident preschooler?
If your 4 year old is close to 110mm tall and/or is confident on scooters already, they can jump to the next stage. Take a look at our scooters for 5 years+
Shop kids scooters